Even before former Senator and now Congressman Alan Peter Cayetano has officially been elected as the next Speaker of the House, there are rumblings and grumblings against his endorsement by President Duterte for a term sharing mechanism with Representative Lord Velasco. The Presidential recommendation took many by surprise considering that the President had been shifting from a non-interference stand to a compromise term sharing position.
Party list Representative Mike Defensor apologized to Davao City Mayor Inday Sara for dragging her name in a text message encouraging congressmen to vote for the candidate of choice and not just be swayed by the Presidential endorsement.
Representative Mikee Romero is now in a dilemma as he has gathered about fifty party list representatives that are supportive of the Duterte Administration at the same time that they had already previously endorsed Representative Velasco. With the announcement of the Presidential choice for Speaker, Romero has only given a QUALIFIED SUPPORT for Cayetano.
ANALYSIS: It is clear that Cayetano does not have the numbers to win an honest to goodness election in the House of Representatives. If the pressure from the Palace is taken away and the representatives are given the free hand to choose among themselves on who their leader would be, it will not be Cayetano. Of course, it is not the 2019 election for House Speaker that is being examined here but rather how this race for House Speaker in 2019 will impact the 2022 Presidential elections. Alan Cayetano and Sara Duterte (technically not a representative but rather a city mayor with a regional political party and a lot of national clout) could gain influence or lose points depending on how they handle the situation that can propel either or both to the Presidency or Vice Presidency.
***********************************************************
Defensor apologizes to Sara for 'text' urging rejection of Cayetano
Pathricia Ann V. Roxa, inquirer dot net
July 10, 2019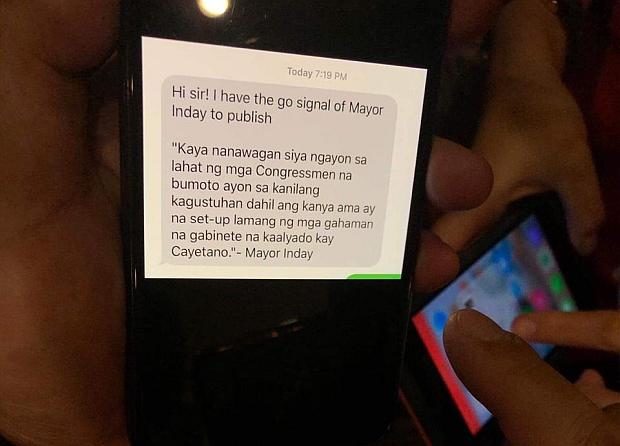 PHOTO: Anakalusugan Rep. Mike Defensor shows a text message from a neophyte House member from Davao, whom Defensor refused to name, to reporters on Tuesday, July 10, 2019. The text message claims Davao City Mayor Sara Duterte-Carpio has given him the go signal to inform lawmakers to reject Alan Peter Cayetano's bid to become Speaker of the House of Representatives. (Photo by PATHRICIA ANN V. ROXAS / INQUIRER.net0
MANILA, Philippines — Anakalusugan Rep. Mike Defensor has apologized to Davao City Mayor Sara Duterte-Carpio for showing a text message supposedly stating that she was urging House members to reject President Rodrigo Duterte's pronouncement on the speakership.
On Tuesday night, Defensor showed reporters the text message which he said was sent by a neophyte congressman from Davao who was "very close" to the presidential daughter. But the Mayor later disowned the text message, branding it as "disinformation."
The message reads: "Hi sir! I have the go signal of Mayor Inday to publish. 'Kaya nanawagan siya ngayon sa lahat ng mga Congressmen na bumoto ayon sa kanilang kagustuhan dahil ang kanya ama ay na set-up lamang ng mga gahaman na gabinete na kaalyado ni Cayetano.' – Mayor Inday."
On Wednesday, Defensor denied saying that the text came from a congressman close to Sara. He said the mention of the congressman was referring to the meeting with the party-list coalition where two party-list congressmen discussed the Duterte Coalition's continued fight despite Duterte's endorsement of Taguig Rep. Alan Peter Cayetano as Speaker.
The lawmaker refused to name the congressman citing confidentiality of their discussion.
"I apologized to Mayor Inday Sara if I have in anyway offended her with my statement. I did not say it came from her or a congressman. In fact, I should not have shown it because reading it again it had Inday Sara's name," Defensor said in a statement.
"It was wrong of me to drag her name unfairly on this matter," the party-list lawmaker added.
The Davao City Mayor also said it was Defensor who reached out to her through Atty. Charo Munsayac to "make last-minute requests for (Leyte) Rep. (Martin) Romualdez." Defensor confirmed this.
"I didn't want to bother Atty. Charo, my lawyer and a good friend of the Mayor, as regards political concerns but the turn of events on the speakership fight has left me and many of my colleagues confused and nonplussed on the matter," the congressman explained.ADVERTISEMENT
Defensor, who had been supporting Romualdez, on Tuesday, said the speakership issue was already decided, but "the reality is there are still movements." (Editor: Katherine G. Adraneda)