Former Senator and Secretary of Foreign Affairs, now Taguig Congressman Alan Peter Cayetano, may have unwittingly revealed that he does not have enough members of the House of Representatives in his pocket to become the next Speaker. Representative Cayetano is crying to the high heavens that Velasco already agreed to a term sharing as suggested by President Duterte while Velasco insists that the President would want the members of the House to settle things among themselves, meaning no Presidential endorsement of a particular candidate and no interference (from the executive) in a co-equal branch (legislature) of government.
Resorting to a term sharing is the negotiated result among candidates that are almost equal in votes and both would rather have shorter terms than risk losing in a close fight. Cayetano desperately clings to term sharing because he is the weaker candidate and he knows it which is why he wants a term sharing since he can not win in the voting. Velasco, on the other hand, is so confident of victory that he would not have anything to do with term sharing as he is already sure that he would win once the voting gets on the way.
*********
Cayetano accuses Velasco of lying about term-sharing
MANILA, Philippines — Rep. Alan Peter Cayetano (Taguig) accused his rival Rep. Lord Allan Velasco (Marinduque) of lying about a supposed term-sharing deal for speakership at the House of Representatives.e speakership, earlier rejected the proposal as it would divide the lower chamber of Congress.
Cayetano insisted that it was the camp of Velasco that proposed term-sharing for the top spot at the House.
"Sinabi ni Lord Velasco na walan naman ganoong usapan. So okay lang naman sa akin na magsinungaling siya because politicians lie," Cayetano told ANC's "Headstart" Monday morning.
According to Cayetano, the camp of Velasco "ran" to Duterte when they found out he was running for Congress and brought up that there was a "promise" that he would take over the House speakership after the term of Rep. Gloria Macapagal-Arroyo (Pampanga).
Cayetano stepped down from his post as secretary of the Department of Foreign Affairs when he declared that he would seek a seat at the House and expressed his intent to be the next speaker.
The former DFA chief said Velasco owes Duterte an apology for supposedly denying that there was a term-sharing agreement.
"I was watching him here but to call the president a liar by saying there is no such agreement, I will not take that sitting down. Congressman Velasco owes the president an apology and he owes the people na mas maging honest siya," Cayetano said.
Cayetano further claimed that the speakership row has been resolved during a meeting last week, where he talked with Velasco's wife Wen.
"Sabi niya (Wen) 'wag ka mag-alala kay Lord kasi mabait naman 'yan. Susunod 'yan sa napag-usapan natin," Cayetano said.
This was the same meeting where Duterte asked Arroyo to choose her successor as he does not want to experience the "agony" of choosing the next House speaker.
Last week, Sen. Manny Pacquiao announced that majority of the lawmakers of PDP-Laban signed a manifesto of support for Velasco as House speaker for the full term of the 18th Congress.
Cayetano, meanwhile, claimed that at least 20 PDP-Laban lawmakers support his speakership bid. — Patricia Lourdes Viray
***********
Duterte says he greenlighted Cayetano-Velasco term-sharing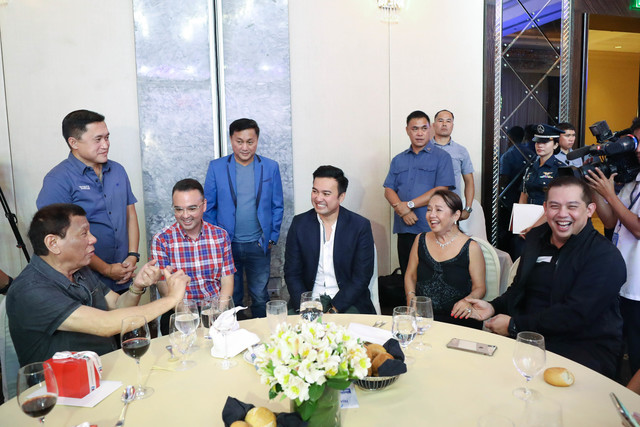 MANILA, Philippines – President Rodrigo Duterte has confirmed that he gave his blessing for a term-sharing agreement between Marinduque Representative Lord Allan Velasco and incoming Taguig-Pateros Representative Alan Peter Cayetano, rivals in the speakership race.
It seemed, however, that Velasco backed out at the "last minute," said Duterte, whose account of events is consistent with 
that of Cayetano
.
Duterte even said the term-sharing was his idea.
"This is what I said. You split a term. Cayetano wanted to go first. But he will stay there just for 15 months. That's what he committed. Velasco can have the other half which is not really as short – 21 months,"Duterte said in a mix of Filipino and English on Thursday, June 27.
"That was the proposal. Cayetano agreed but Velasco appears to have backed out at the last minute," continued Duterte.
The President was asked about the term-sharing scheme after Cayetano issued a statement expressing deep disappointment that Velasco had made a "turnaround" and decided he "won't honor [the] President's wishes" even after he had agreed to it.
During the interview, Duterte said he had proposed the term-sharing when Velasco, Cayetano, and Romualdez met with him in Japan, during his recent visit there for an international forum.
He said he initially even suggested a "toss coin," which the 3 opposed.
In the President's account, it was Cayetano who first sought his endorsement as speaker, and then Velasco. To both, Duterte said he agreed with their plans to seek the speakership but supposedly never gave his "commitment." Romualdez, the last to approach him, also did not get a commitment from him.
"They went up to my room and they said: 'You decide. We will follow.' I cannot do that because I do not want to offend anybody even if you say, 'It's up to you, Mayor.' There's always the fall out," said Duterte.
With the term-sharing deal out of the picture, Duterte sasaid he would stick with his earlier decision to let House members decide on their own.
"Mag-labo-labo na lang kayo (You go it your own), Romualdez, Alvarez, Cayetano. And I am telling each and every one of them, 'I am sorry. I am very sorry I could not be of help,'" said Duterte.
Velasco, in a statement on Thursday, said as much.
"President Duterte already made clear his position that he would leave the choice for Speakership to the capable hands of the members of Congress and will not endorse a particular individual for the position. This declaration never mentioned a term-sharing for the position of Speaker," said Velasco.
PDP-Laban, Duterte's national political party, had announced Velasco as its bet for Speaker. Three other groups back his bid, though one of them – the party-list coalition – said it would only finalize its decision on July 2, ahead of the July 22 House vote.
The Marinduque lawmaker, whose dad and wife are also close to the President, said many House members find term-sharing problematic.
"There is a strong consensus among majority members of the House of Representatives during my series of consultation with them that term-sharing is divisive and will only impede the passage of important pieces of legislation," said Velasco.
Romualdez, who described himself as a "strong contender" for Speaker, is also opposed to term-sharing, for the same reasons. – Rappler dot com